SERIES8 Omni
Earset Microphone
The CO-8WS has an upgraded design that includes our renowned "Unbreakable Boom" bendable to 360°, a performance boost to 136dB max SPL, IP57 waterproof protection against water, sweat and makeup; and replaceable X-Connectors for wireless compatibility on the spot. This earworn microphone can be worn either over the left or right ear, or as a dual earset microphone option giving users four (4) ways to wear it.
The CO-8WS omnidirectional earset microphone is extremely easy to place to achieve optimal performance, especially in high gain situations. There are no tonal complications and the pickup remains constant regardless of head movement. The CO-8WS earworn or earset style microphone can be adjusted to fit any speaker or performer. The CO-8WS is our best earset microphone for all your professional mic'ing needs.
Expand for Microphone Details



  "Unbreakable Boom" bends 360°
   136dB max SPL
   IP57 waterproof rated
   Interchangeable X-Connectors for all popular wireless packs including Shure, Sennheiser and Audio-Technica
Mic element only 4mm in diameter
Optimal gain before feedback
Available in colors beige, brown or black
Element: Back Electret Condenser
Pattern: Omnidirectional
Frequency: 20Hz - 20kHz
Sensitivity: -43dB 1V/Pa (± 3dB at 1kHz)
Maximum SPL: 136dB SPL
Output Impedance: 1400 Ω (at 1kHz)
Operating Voltage: 1 - 10 V
Cable Length: 4 ft .077 in + connector
Net Weight: 0.6 oz
Colors: Beige, Brown or Black
Connector Types: TA3F, TA4F, TA5F, lockable 3.5mm, Hirose, Lemo-style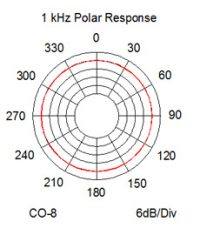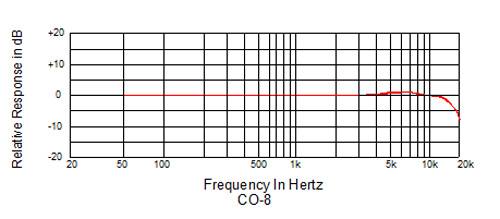 X-Connector
SERIES8 microphones are equipped with an interchangeable X-Connector, offering a rapid and inexpensive way to quickly change the microphone wireless termination from one brand to another.
Cable Clip
Each microphone is accompanied by a cable clip. This traditional style alligator clip helps provide strain relief to the microphone so that movement of the boom is minimized to ensure a consistent audio level.
The Original "Unbreakable Boom" Microphone