SERIES8 Cardioid Earset
Microphone
The CR-8S is an exceptionally durable cardioid earworn microphone ideal for producing performance grade audio quality that is typically only experienced using a larger format microphone. A cardioid headset microphone will pick up one focused sound from one direction compared to an omni that picks up from several directions.
Cardioid Earset Placement
The CR-8S is a great choice when you need a cardioid earworn microphone to pick up sounds predominately from one direction. No need to force the earset microphone in front of the mouth either- it is designed to rest at the corner of the mouth to maintain its low-profile appearance.
Cardioid Earset Boom Flexibility
This earworn microphone features our renowned "Unbreakable Boom" bendable to 360° without breakage. Because of its pickup pattern, this cardioid earworn microphone is well suited for high noise environments and live productions. The CR-8S earworn microphone can be worn either over the left or right ear, or as a dual earset microphone option giving users four (4) ways to wear it.
Expand for Microphone Details



  "Unbreakable Boom" bends 360°
   135dB max SPL
   Interchangeable X-Connectors for all popular wireless packs including Shure, Sennheiser and Audio-Technica
Mic element only 4mm in diameter
Optimal gain before feedback
Available in colors beige, brown or black
Element: Back Electret Condenser
Pattern: Cardioid
Frequency: 160Hz - 14kHz
Sensitivity: -50dB 1V/Pa (± 3dB at 1kHz)
Maximum SPL: 135dB SPL
Output Impedance: 5000 Ω (at 1kHz)
Operating Voltage: 1 - 10 V
Cable Length: 4 ft .077 in + connector
Net Weight: 0.6 oz
Colors: Beige, Brown or Black
Connector Types: TA3F, TA4F, TA5F, lockable 3.5mm, Hirose, Lemo-style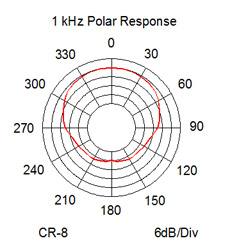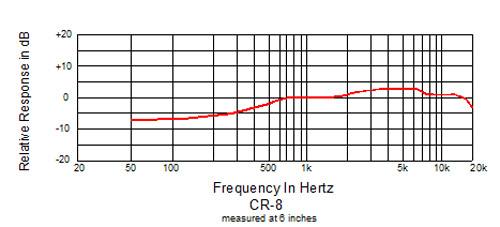 X-Connector
SERIES8 microphones are equipped with an interchangeable X-Connector, offering a rapid and inexpensive way to quickly change the microphone wireless termination from one brand to another.
Cable Clip
Each microphone is accompanied by a cable clip. This traditional style alligator clip helps provide strain relief to the microphone so that movement of the boom is minimized to ensure a consistent audio level.
Boom Bends 360° for Precise Fit