Miniature Lavalier at Only 4mm
The sign of a good miniature lavalier microphone is no sign at all! Small and discreet, their low-profile nature is what broadcasters and performers love the most. Gently tucked behind a button or hidden in a hairline, miniature lavalier microphones are the most unobtrusive technology on stage or on camera.
Behind a button, or hiding in the hairline, this lavalier microphone is ideal for applications requiring complete camouflaging. Of particular note is that the CO-8WL lavalier mic is IP 57 waterproof rated against water, sweat and makeup—conditions that are commonly harmful to microphones. This little lavalier delivers big results currently on Broadway productions including Hello Dolly!, Present Laughter, and Bandstand.
Expand for Microphone Details



  136dB max SPL
  IP57 waterproof rated
  Interchangeable X-Connectors for all popular wireless packs including Shure, Sennheiser and Audio-Technica
Mic element only 4mm in diameter
Optimal gain before feedback
Available in colors beige, brown or black
Element: Back Electret Condenser
Pattern: Omnidirectional
Frequency: 20Hz - 20kHz
Sensitivity: -43dB 1V/Pa (± 3dB at 1kHz)
Maximum SPL: 136dB SPL
Output Impedance: 1400 Ω (at 1kHz)
Operating Voltage: 1 - 10 V
Cable Length: 4 ft .077 in + connector
Net Weight: 0.6 oz
Colors: Beige, Brown or Black
Connector Types: TA3F, TA4F, TA5F, lockable 3.5mm, Hirose, Lemo-style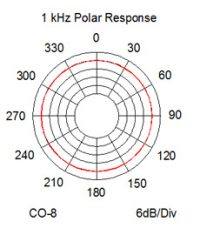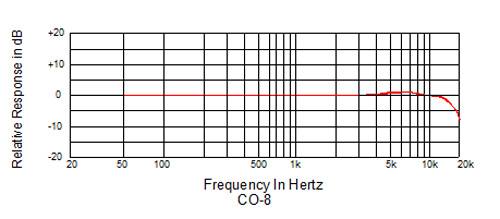 X-Connector
SERIES8 microphones are equipped with an interchangeable X-Connector, offering a rapid and inexpensive way to quickly change the microphone wireless termination from one brand to another.
Windscreen
Every microphone comes with one windscreen of matching microphone color. Windscreens help reduce exposure to the element from clothing noise, gusts of wind, and dust particles.
Cable Clip
Each microphone is accompanied by a cable clip. This traditional style alligator clip helps provide strain relief to the microphone so that movement of the boom is minimized to ensure a consistent audio level.
Look Who's Singing our Praises
At the San Francisco Opera, Point Source Audio mics premiered on opening night of Sweeney Todd in the Fall of 2015 and continue to provide just the right amount of vocal reinforcement through all the blood, sweat and tears that accompany every production!
In goes celebrity Bryan Cranston (with the CO-8WL) to the water tank as the Red Nose day campaign climaxes on a cool $35 million to help children in need.
Winner of the 2015 Tony Award® for Best Musical Revival, The King and I actors on this 4-time Tony Award winning musical production are "whistling happy tunes" mic'd with Point Source CO-8WL lavaliers.