SERIES8
Cardioid Lavalier Microphone
The CR-8L cardioid lavalier microphone is one of the best choices for amplification in high volume situations where gain before feedback is a problem. The results you get from the miniature size of this cardioid lavalier are more than you would expect!
Small Mic with a Big Sound
The CR-8L lavalier microphone has an extremely small format of a mere 4mm in diameter, and a surprising capability to handle up to 135dB max SPL.
Expand for Microphone Details



  "Unbreakable Boom" bends 360°
   135dB max SPL
   Interchangeable X-Connectors for all popular wireless packs including Shure, Sennheiser and Audio-Technica
Mic element only 4mm in diameter
Optimal gain before feedback
Available in colors beige, brown or black
Element: Back Electret Condenser
Pattern: Cardioid
Frequency: 160Hz - 14kHz
Sensitivity: -50dB 1V/Pa (± 3dB at 1kHz)
Maximum SPL: 135dB SPL
Output Impedance: 5000 Ω (at 1kHz)
Operating Voltage: 1 - 10 V
Cable Length: 4 ft .077 in + connector
Net Weight: 0.6 oz
Colors: Beige, Brown or Black
Connector Types: TA3F, TA4F, TA5F, lockable 3.5mm, Hirose, Lemo-style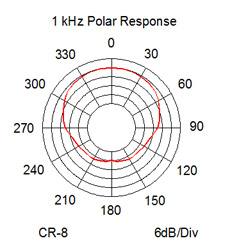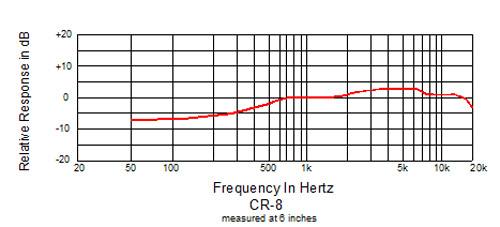 X-Connector
SERIES8 microphones are equipped with an interchangeable X-Connector, offering a rapid and inexpensive way to quickly change the microphone wireless termination from one brand to another.
Cable Clip
Each microphone is accompanied by a cable clip. This traditional style alligator clip helps provide strain relief to the microphone so that movement of the boom is minimized to ensure a consistent audio level.
Look Who's Singing our Praises
"We first deployed the Point Source mics at the Spoleto premiere last year and they proved to be sonically precise—especially the directionality of the CR-8L cardioid lav."
"The PSA sound is very transparent and warm. When you're working in theatre, there is a huge emphasis on the mic sound seeming as natural as possible in order to not distract from the performance. Point Source does an excellent job of amplifying without changing the tonal color of the voice."