Microphone Survival in a Monsoon (Wedding)
Whether you're producing an outdoor performance in inclement weather or a stage show that involves rain showers, you'll need to consider how waterproof your mics are. We covered waterproof microphones and taking care of mics after they get wet in our Halloween mic gore-proofing post. Here we are going to take a look at how sound designers and audio crew set up Point Source Audio microphones in the wet and wild performance of "Monsoon Wedding".
Based on the 2001 film directed by Mira Nair and written by Sabrina Dhawan, the live production of "Monsoon Wedding," which enjoyed a run earlier this year at the Berkeley Repertory Theatre, tells the story of a traditional Punjabi Hindu wedding in Delhi, India.
The "Monsoon Wedding" sound crew had several concerns when they were choosing mics for the show. Since each night's finale required the cast to get soaked by a simulated monsoon, the mics had to be waterproof. "Knowing that the cast would be actually rained on in the finale of each show, we knew that mic choice would be a key consideration," said James Ballen, audio supervisor at the Berkeley Repertory Theatre. "And the CO-8WL microphones were a perfect choice. They're extremely small and low profile, sound wonderful, and are fully waterproof."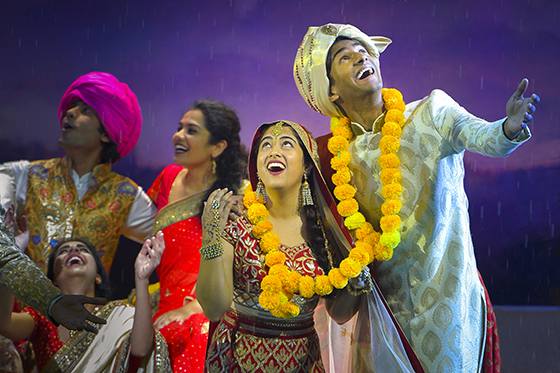 The low profile of the microphones was also important, as they wanted the microphones to be completely out of sight. (If you are working on concealing mics, take notes here.) The crew carefully concealed the mics in the actors' hairlines and costume pieces. Though the CO-8WL mics are very small, hiding them is still a tricky balancing act. It has to be hidden without being fully obstructed, and care must be taken to make sure hair and costumes don't rub directly on the mic, causing distracting scratchy sounds.
The sound crew did such a phenomenal job hiding the mics, that we could hardly find a picture where you can see them! In this one, you can (barely) see how they did it.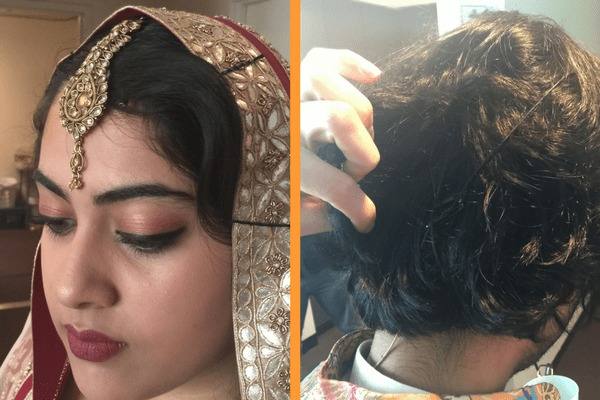 The mics were concealed by pinning the wires in the actors' hair with wig clips, the cables were painted to match their costumes, and the mic tips were also color-matched to the actors' hair or skin. All of these tricks along with the small size of the mics rendered them nearly invisible.
In the end, "Monsoon Wedding" went off without a hitch, even with the mics and actors getting soaked night after night. "We never had one issue with the mics," Ballen said. "They recovered every time, which is quite remarkable."
Read More Articles Like This >> Visit Our SOUNDING BOARD