In this 30-minute microphone basics webinar, you will learn the key principles of sound design and the critical role of microphone placement. Several popular theatre miking styles including on-ear, hairline and headset microphones will be explored with a period for questions and answers.
More courses coming soon!
How to choose microphones to hone the performance
How to place body microphones for optimal sound and appearance
How to encourage student participation through "Self-miking" best practices
How to sanitize microphones and promote "Safe-miking" protocols
This course is designed for anyone interested in learning strategies to improve student miking.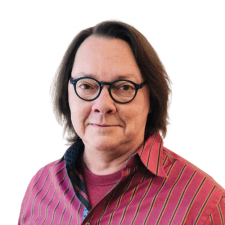 Mac Johnson
Resident Technical Instructor
Point Source Audio
A veteran in the professional audio industry, Mac has 30 years of experience with microphones on Broadway and beyond. Prior to joining the Point Source team, he toured as Production Sound Engineer on Broadway productions, as well as Sound Designer for theatrical productions, music festivals and corporate events. As a mixer and designer, Mac understands where the sound starts and how to capture it.  As a performer, he knows how microphones act as an extension of an artist's instrument. His role puts him on the front lines of markets requiring a true understanding of the design to integration processes.