How to Roar with Stage Confidence
Does the thought of getting on stage and performing for an audience make you sweat and shake? It's not just you — stage fright effects everyone from professional musicians to business executives. According to the Anxiety and Depression Association, public speaking is the biggest fear reported by many American adults, topping flying, financial ruin, and sickness.
Public speaking and performances can be scary, but stage fright doesn't have to end your performance career. Here are 5 tips to overcome stage fright and make your next public performance easier and a little less sweaty.
Shift the Focus from Yourself
You can imagine that the whole audience is in their underwear, but that old technique can be a little distracting. Instead, shift the focus from yourself to the purpose of your performance. Whether you are on stage at an industry conference or for a play, you're delivering something of value to the audience. Think about how you will entertain them, educate them, or even enrich their lives by exposing them to a new art form. Your talent and knowledge have a powerful potential to influence your audience, so focus on that instead of your fear.
Rehearse in Front of People
The best way to get used to performing in front of people is to practice in front of people you trust. Start small. Grab your best friend, spouse, or significant other and run through your performance a few times. As you become more confident, expand your audience to less intimate friends, associates, or coworkers. You can even go practice on a street corner downtown (tip jar optional). This stage fright-fighting technique will not only get you comfortable in front of an audience, you'll also get more real-life rehearsal time and feedback that can help you nail down your act.
Amplify your Performance
Not all of us have a booming voice like James Earl Jones. Even with audiences as small as 20 people, background noise can easily overwhelm performers. More often than you think, it's a good idea to use a microphone.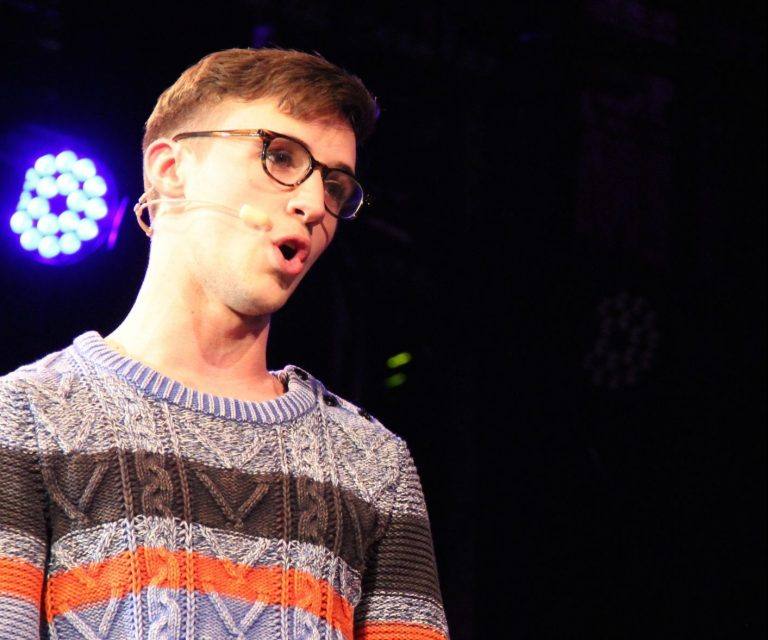 Unless holding a mic in your hand comforts you, use a wireless headset mic, earmount, or lavalier mic so you don't have to think about the mic or trip over wires. More importantly, a microphone will significantly turn up your voice projection without you even trying. This will keep you from having to strain your voice and help ease tension. Whatever microphone you use, get to know how it works before the show so it just blends into the background.
Forget Being Perfect
Look, nobody's perfect, especially on stage. You're inevitably going to miss a chord, stumble on a word, forget a line, or fudge a stage direction. Hey, there's probably a typo somewhere in this post! The best thing is to plan for it, and when a mistake occurs, just roll with it like it didn't happen. In all likelihood, your audience won't even notice most of what you consider to be mistakes and will forgive you for most blunders if you can recover from them quickly. Shooting for perfection is setting yourself up for failure. Planning on being a human who makes mistakes is much more reasonable.
Eat, Drink, and Exercise
You don't want to go on stage hangry or with a hangover. Low blood sugar from being hungry can affect your memory, causing you to struggle to remember words and also increase anxiety. While getting tipsy the night before your performance probably seems like the right thing to do, don't. The day after consuming alcohol, your brain experiences a drop in serotonin, which can trigger feelings of anxiety and depression. Exercising can also increase "feel-good" endorphins in your brain that can make you feel sharper and more confident. Just a quick 15-minute walk before you get on stage can do the trick. If you stay fit, get fed, keep hydrated, and ban the booze (until afterwards) your brain and body will be ready to help you deliver your best performance.
Remember to Have Fun!
You're on stage because you're doing something you love, know, and are probably pretty good at. Someone invited you on stage to share your talent for good reason, and it's an experience you'll never forget. It can be a tall order for people who suffer from stage fright, but remember these tips and try to have fun!
Read More Articles Like This >> Visit Our SOUNDING BOARD