Why (Mic) Sensitivity Matters
An audio director's #1 criteria for mic choice
Before standardizing on Point Source Audio's CO-8WL Waterproof Lavalier Microphones, Brian Bird, Lindenwood University's audio director and adjunct professor, A/B tested a number of lavalier microphones in a wide range of performance settings in the university's two performance spaces. Ultimately, the Point Source Audio CO-8WLs outperformed all other lavalier mics tested with regards to Bird's key performance criteria. But most notably, Bird discovered the CO-8WLs excelled over all other mics with regards to his number one criteria: high gain before feedback.
What the A/B Tests Showed
"The Point Source Audio CO-8WLs pick up exceptionally well, with tons of gain before feedback, which is something we could not get with any other lav mic we tried," said Bird. "This high gain-before-feedback quality allows me to place mics just about anywhere I want, which is really nice. This combination of versatility in placement and superior gain quality is unique to the Point Source mics based on our A/B tests."
In the testing, Bird found that the Point Source Audio CO-8WLs (with a -43 dB sensitivity rating) even outperformed the pricier lav mics he had purchased and used in the past, which surprised him. "The gain-before-feedback for the CO-8WL is significantly better than anything else on the market," said Bird. "This gain before feedback spec is huge when you're using a lot of microphones, such as with a musical, because the more mics you add, the harder it is to get the voices heard over the orchestra without feeding back. This is something we don't struggle with now when using the Point Source CO-8WLs, which is awesome." For a production team, this ability to use a large number of lav microphones at high gain without feedback solves one problem, but creates another — how to hide the mic so it's not distracting. Bird also found that the CO-8WLs helped address this challenge.
Practically Nothing to Hide
"In many productions, we're using 24 to 30 lav mics, mostly as wig mics," says Bird. "In these productions, every costume is a little different. The CO-8WLs are so easy to hide, no matter what style of costume the actor is wearing. My go-to mic prior to the Point Source CO-8WL was small. But even that mic is maybe three times the size of the capsule of CO-8WL. There's just nothing this small out there. For example, I wasn't able to hide a mic in the glasses the way I can do with the CO-8WL." The ability to hide a lav mic becomes especially critical in intimate performance spaces, such as in the University's 80 x 80 black box theater space. For productions in this space, Bird found that the CO-8WLs were small enough to generally hide the mic without additional camouflaging. But when necessary, Bird finds the range of color options the CO-8WL offers for camouflaging very helpful.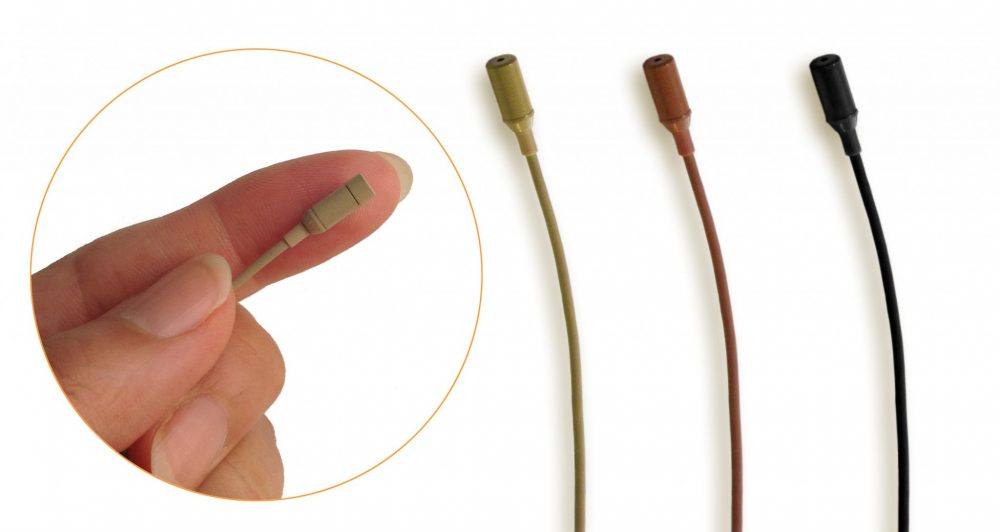 "I've found that, in many cases, the CO-8WLs size alone allows us to camouflage the mic, so we don't need to use the camouflaging and colors," says Bird. "Even in our black box where you could have an actor standing three feet in front of you at times, you're not going to see these microphones because they are so tiny. But sometimes, being able to go with the different colors for different hair color, different skin tones is a great option." In the end, Bird and his team at Lindenwood University have found that the Point Source Audio CO-8WL mics help enable the team to focus on higher level production priorities and not worry about the possibility of feedback or audio quality issues.
Applying the Value-to-Performance Ratio
"The CO-8WLs have brought so many benefits to our production environment, from better audio quality, to durability and reduced cost because of less breakage," says Bird. "The only lav mic on the market I know to compare with the CO-8WL costs twice as much and doesn't have near as good a gain-before-feedback spec. Considering our large channel count along with the fact that we're a university with a tighter budget than a lot of professional theaters, the value-to-performance ratio we get from the CO-8WL lav mics is huge for us. The bottom line is that the CO-8WLs have better gain-before-feedback, last longer and cost half as much as the closest competitor. I can't ask for much more than that!"
Read More Articles Like This >> Visit Our SOUNDING BOARD
Lindenwood University, a private institution located in St. Charles, Missouri with a thriving visual arts school and state-of-the-art performing arts center has newly standardized on Point Source Audio microphones for their multi-faceted venues. The center hosts in-house stage productions as well as community-centric performances and featured speaker events year-round that are open to the public. Two very different performance venues within the center, a 1,200 seat proscenium theater and an 80 x 80 "black box" intimate performance space call for a highly versatile microphone able to handle the vocal range from an actor to the moderate voice of a speaker at a podium.
The gain-before-feedback for the CO-8WL is significantly better than anything else on the market.