Is Double Miking Right for Your Church?
Pastor Reviews Point Source Audio's CO2 Dual Element Headset Microphone
John Chevalier, a pastor and worship leader at Faith Community in Northern California, reviews the Point Source Audio CO2 Dual Element Headset. John is a Leadership Trainer/Consultant, Musician, and General Audio Geek, and here's what he had to say:

For the last two months, I've had the opportunity to use and review Point Source Audio's CO2 Confidence Headset Microphone featuring a built-in backup mic. This style of mic'ing is also referred to as "redundant miking" as it deploys two mic elements to prevent interruption of the live signal in the event the main signal is lost due to a wireless drop or another connection issue. This double mic'ing setup requires that you use two wireless transmitters which can even be set to different frequencies. If one signal drops the other one is there, continuing to perform. Double mics are typically used in theatre and in critical live sound applications to provide a backup mic. However, I have been in enough churches to say that the issues of signal drop and other mic problems can affect large and small churches as well. This is where the CO2 Mic really shines with the ease of two mics in one.
Redundant Mic'ing Made Easy
Point Source Audio's new class of wireless microphones all have dual elements offering built-in redundancy and showcase an appealing new slimline design. They integrate two of the company's important first-to-market features in miniature microphones: IP 57 waterproof rating, and the "unbreakable" headset boom bendable to 360° to bolster durability. All this unlocks new conveniences and simplicity for broadcast, audio, and production techs as well as please the presenters and performers they serve.
Upon receiving the mic I opened the box and was immediately impressed by its quality and its weight. You can just tell by the design and materials that you're holding a high-quality microphone. It's super lightweight and you have to look at the head of the mic to notice the two elements. It's very comfortable and the entire boom is adjustable. Since you can bend it in all sorts of different ways, I did notice it helps to look in a mirror just to make sure the boom is straight. The dual X-Connectors attach solidly and screw on, which means you don't have to order a whole new mic for use with a different wireless systems, which is a nice feature.
How to Set Up Your Wireless Microphone for Double Mics
The one thing that is a little different is the way you set this up for use. You'll need two wireless packs or a single dual band system. The best set up is to run it on two separate channels on the board that are set exactly the same, which is easy on a digital board as you can link the channels together. For some still in the analog world, you'll just need to pay a little closer attention and match everything. The speaker will wear two wireless packs set to two different frequencies. This ensures if one mic drops out the other continues transmitting.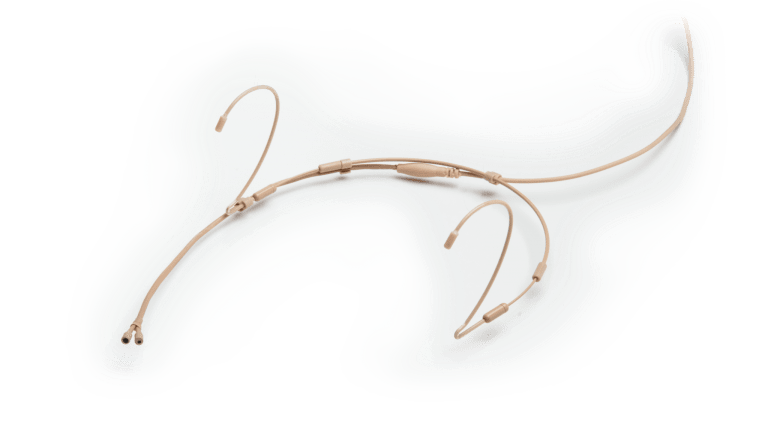 Key Features of the Dual Element Headset
Sonically Matched Dual Elements
I heard no difference in switching between the two capsules. The Point Source website states they are "precisely matched elements to a near identical ±0.5 dB difference."
Locking Interchangeable X-Connector
Having a convenient interchangeable connector is an awesome feature for those who would need to use this mic with different brands of wireless transmitters. There's no need to buy different mics or have connectors replaced when purchasing a new system. Both ends of the screw-on connector have teeth that lock into each other, so you don't have to worry about anything coming undone.
Waterproof Microphone Capsule
Water may not be something you need to be concerned about in the context of a local church service; however, if sweat is a challenge, or if the mics are used for a youth production where water may be involved, this becomes really important. The mic has an IP 57 waterproof rating and has been built for theatrical productions where the mic is protected from damage due to exposure to water, sweat, makeup, and other liquid effects.
Microphone Testing Results
For the purpose of this review, I was able to test this in two different rooms. The first room had a couple of common two-way speaker boxes incorrectly flown as a center cluster, causing a pretty significant hotspot in the front center of the platform. The audio team from the first room reported their pastor cannot walk in certain spots on the platform without some form of feedback, regardless of what they did. The second room had a pair of distributed mode loudspeakers with a small sub placed in the center of the platform in front of the drum shield. The sound in room two was excellent. Immediately upon powering up, and before adjusting anything, the mic was super clear and free of any noise in both rooms. After setting the EQ on our pastor, I had him move around the room a bit. I did not experience any signal drop in either room, so I created my own by muting channels while the pastor was teaching. I could not differentiate between the two channels at all. There was no noticeable change in the speaker's voice.
Room 1: I was only able to produce feedback when I turned up the mic to a non-practical volume. I'm pretty impressed with the resistance to feedback that this mic exhibits. Even in a room with bad acoustics and a sub-par speaker system, the mic sounded very clear.
Room 2: We started with great sound from the beginning. No issues. Crystal clear sound. I can't say much more. This is a great quality mic. I should mention that my final test was running the mic using only one capsule with one belt pack, just because I could. Although this is not the intention of this style mic, it's still going to give you a great sound if for some reason you only had access to one channel of wireless.
Overall this mic performed flawlessly and is very impressive. It's comfortable to wear, it's small and it looks great. You can hardly see the second element. It also has great sound which, when coupled with the redundancy feature, will be a problem solver for many churches. The CO2 Confidence Collection has double mic'ing built-in, and is available as a headset, lavalier, or earmount. They also come in beige, brown and black.
Read More Articles Like This >> Visit Our SOUNDING BOARD
You can just tell by the design and materials that you're holding a high-quality microphone."