The Perfect Sound Mix at Lindenwood University
Sound designer Anthony Elliott adds Foley effects on his sound design for "Our Town"
At Point Source Audio, innovation is at our core, as is supporting the next generation of audio professionals, so from time to time we want to take note of the exciting work being done by young designers. For a recent production of Our Town at Lindenwood University, sound designer Anthony Elliott mixed recorded sound effects with live Foley effects to great results. The theater program at Lindenwood has an inventory of PSA CO-8WL lavalier mics, which Elliott notes solved a particular production challenge as the actors broke the fourth wall and moved into the house. Read on to learn more about Elliott's design for Our Town in his own words:
With my design, I was trying to accomplish the direction the director wanted to go; focusing on the small-town aspect; this friendly feeling of a small town. I tried to make everything sound as natural as possible. Originally, I wanted to record everything and have more control over all my sound effects, but in a design meeting, the idea of live Foley effects came about, and the director loved it. The idea was scary for me because I'd never before dealt with Foley but I was excited to tackle the challenge and it ended up turning out well. Later, I found that the original production of Our Town used live Foley for all their effects; so it was like a tribute to the original production.
Handcrafted Effects
We created two Foley booths, one SL and one SR, using pipe and drape as a sort of sound barrier. All the Foley effects were made by the actors as they watched and listened for the cues on monitors. We taught them how each effect worked as well as when to do them. I taught them early in the rehearsal process so they were comfortable handling the cues on their own.
To create the Foley effects for the show, I tried all different things and some needed more than one person. One was the effect of an old reel lawn mower. I spun the wheels on an old vacuum which had this nice low raspy rumble that I wanted, and then I spun a metal toilet roll holder to get a metal squeak out of it. Those together gave it character and a little age to the lawn mower. I also used rice and vitamin pills inside of a metal can and spun that to get the action of the blades spinning and cutting the grass. That effect was done by three actors at the same time and worked well.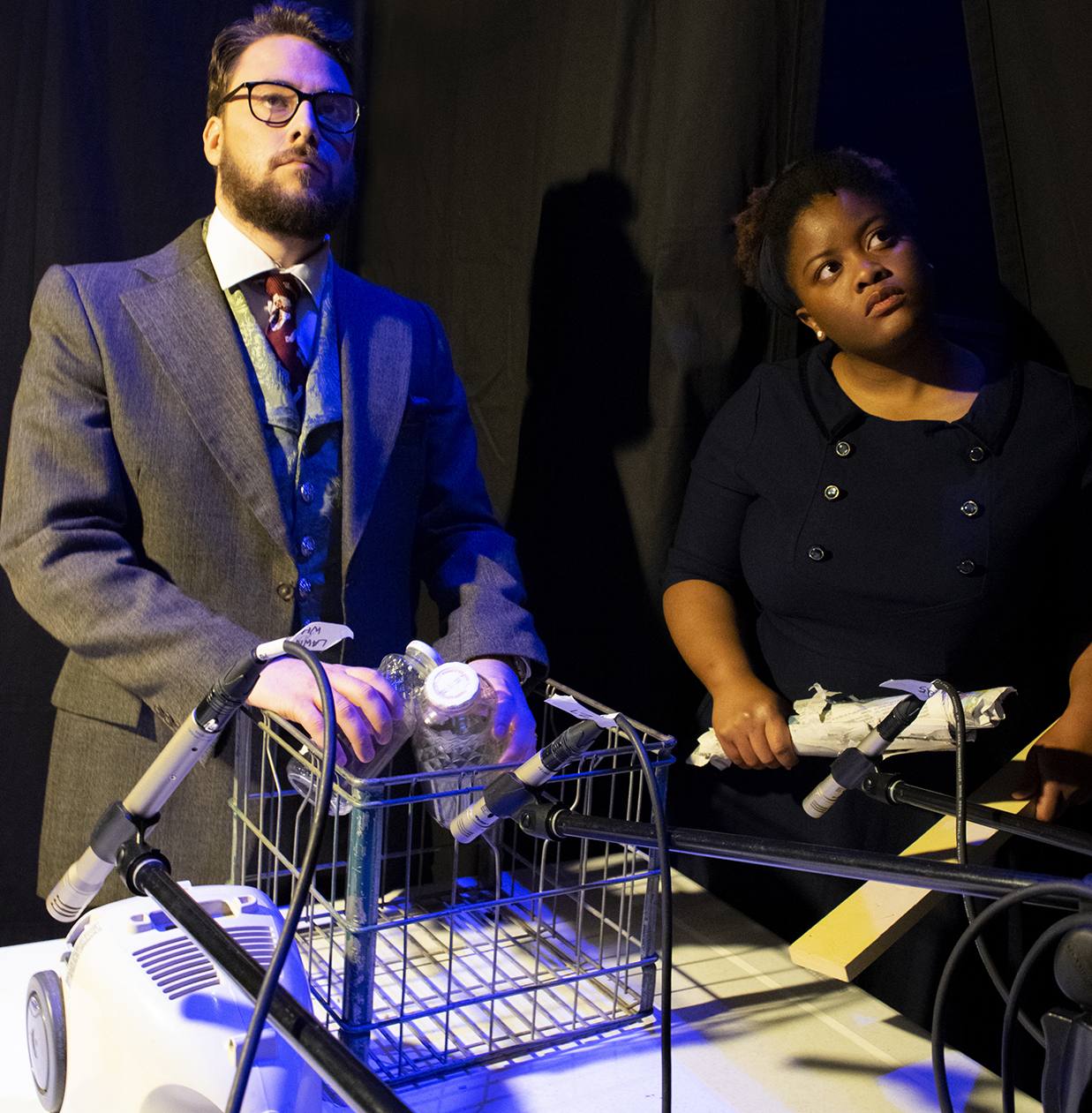 One of my favorite effects was the horse Bessie. I used a rubber plunger head and a wooden box full of rice and oats. I didn't want to use coconuts [a well-established horse walking effect] because they were walking on a dirt road. I wanted that kind of gravelly, gritty sound to it and it turned out well. I did try to do crickets as a Foley effect using a ceramic bowl with glass marbles swirled around but it didn't have the crisp bright element it needed, so I used a recording. Overall the effects sounded really good.
I did record a few effects in a studio; I unfortunately didn't have the time to go out and record any natural effects. I used a homemade wind chime that my dad made from an old propane tank for the school bell. I tweaked it in editing, and it turned out very nice. I didn't want to use it live because it was too loud.
The Audio Feedback Challenge
One audio challenge we had was that the set designer had the stage going in front of the PA and into the audience area. Also, we had a good number of actors go into the audience for scenes. The Point Source mics were a key element to help prevent feedback. I miked all the actors using our Point Source CO-8WL lavalier microphones, they are amazing. Having that collection of mics let me get the best possible sound.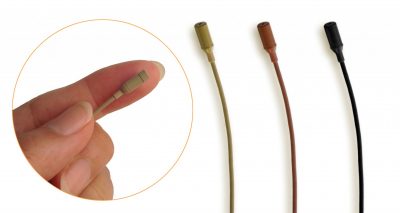 The PSA CO-8WL Waterproof Lavalier Microphone … has an unobtrusive low-profile of merely 4mm in diameter, but it embodies all the high-performance characteristics you might expect from a larger format microphone. Small and discreet, their low-profile nature is what designers and per- formers love the most. It doesn't sacrifice quality for size either. "The gain-before-feedback for the CO-8WL is significantly better than anything else on the market," says Brian Bird, Audio Director and Adjunct Professor, Lindenwood University. Of note is that the CO-8WL lavalier mic is IP 57 waterproof rated against water, sweat, and makeup.

Read More Articles Like This >> Visit Our SOUNDING BOARD