Point Source Audio to Unveil Moldable Microphone for Sound Designers at ABTT 2019
GO-8WD is shapeable to tailor-make an assortment of body-worn mics
Petaluma, CA and London, UK — Point Source Audio (PSA), manufacturer of specialty sub-miniature body-worn style microphones, including the twice patented EMBRACE™ earmount mic'ing system, announces it will unveil their new GO-8 Series of microphones featuring the GO-8WD, a revolutionary moldable microphone that shapes into a variety of mic styles, at UK's premiere theatrical show, The Association of British Theatre Technicians (ABTT) 2019.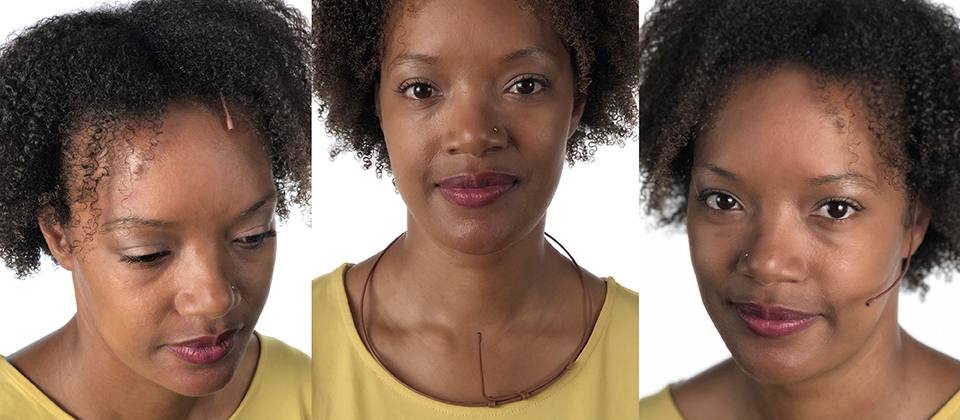 Developed on the company's extensive foundation in musical theatre, the GO-8 sets a new bar as one of the most flexible mic solutions for professional theatre—allowing the sound team to create a custom actor microphone style as they need it. Point Source Audio is the microphone choice for a number of highly notable theatrical productions—such as Hamilton, The King and I, To Kill a Mockingbird, Tina, Carousel, and Chicago—that are on Broadway, on the West End and everything in between.
Designed specifically for professional theatre, the moldable GO-8WD-SK starts out flat but can be shaped by an A2 or mic expert into a collar mic, halo mic, or a headset mic for the left or right side. The company reports that while these are the most common styles in theatre, the GO-8WD's moldable format can be an instant problem solver in a multitude of mic'ing situations that are either unexpected or challenging.
"For me, the GO-8WD is a great solution for precisely fitting a headset-style mic on an actor; every aspect from the ear hook to the boom length can be formed exactly as needed to get the best sounding position, as well as comfort for the actor," said Jonathan Deans, the Tony-nominated veteran sound designer whose volume of work include Waitress, Kiss Me Kate, Pippin, and multiple Cirque Du Soleil productions including Michael Jackson's ONE, LOVE, ELVIS, Believe and many more.
The defining feature of the entire GO-8 Series of microphones, which also includes the single lavalier (GO-8WL-SK) and dual element lavalier (GO2-8WL-SK), is the company's new patent-pending Lemo-style connector said to withstand accelerated life testing to 12,000 bends.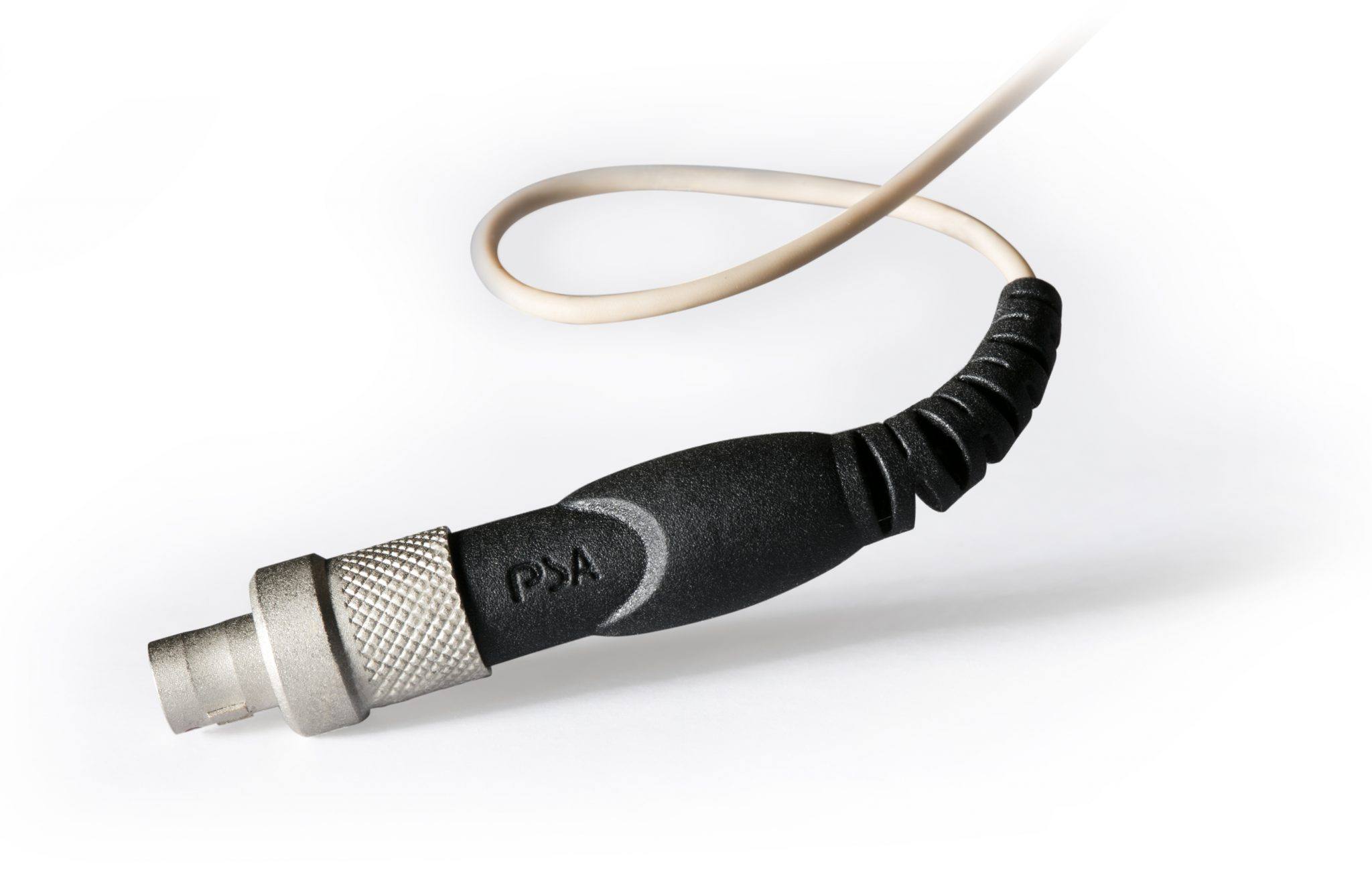 The very compact Lemo-style connector is a common connector type on wireless packs from Sennheiser SK, Lectrosonics, and Shure Axient. "We have achieved a proprietary design that strengthens the connector to stave off damage from the tugging and pulling that mics and connectors are subject to every time they're used," said James Lamb, president of Point Source Audio.
Key features include:
Tighter tolerance from mic to mic: Each GO-8 microphone is quality controlled to a tighter tolerance of only ± 2dB—exceeding the industry standard. The tighter tolerance accounts for a narrower window of difference and greater consistency in performance from mic to mic which is an important time-saving benefit when tech'ing a production with a large cast.
IP 57 waterproof rated: All GO-8 mic elements are protected against damage from sweat, makeup and water immersion to 1 meter for up to 30 minutes.
Matched elements: The GO2-8WL dual elements are factory matched to a near identical ±0.5 dB difference to provide built-in microphone redundancy with the convenience of a single cable.
Lamb summed up the company's latest innovation by saying, "The GO-8 is one of our most ambitious developments so far. We designed it in close collaboration with industry professionals to equally address the demands for excellence in sound, as well as fitting versatility together in one." Leon Rothenberg, Tony Award-winning sound designer and theater faculty member at California Institute of the Arts agrees: "The level of customization and fit that can be achieved with the GO-8WD is unprecedented. It has almost no visual profile. And it sounds great!"
Pricing and Availability
The GO-8 Series includes three models that feature the proprietary Lemo-style connector: waterproof lavalier (GO-8WL-SK), dual element waterproof lavalier (GO2-8WL-SK), and the waterproof moldable headset (GO-8WD-SK). All models are available in beige, brown or black color starting at $475 (US) through select Point Source Audio Authorized Resellers and Distributors worldwide (prices may vary).
Point Source Audio will exhibit at this year's ABTT show along with its UK distribution partner Autograph Sales & Installation to introduce the GO-8 Series to sound professionals working in live theatre. Visitors to ABTT 2019 from June 5-6 will be able to experience Point Source Audio's revolutionary GO-8WD and give it a bend for themselves at booth W3 in the Alexandra Palace in London.
To learn more about Point Source Audio, visit www.point-sourceaudio.com. For additional ABTT information, visit www.abtt.org.uk
About Point Source Audio
Point Source Audio (@PSA_audio) manufactures and distributes worldwide their SERIES8, EMBRACE, and CONFIDENCE collection of miniature microphones — a unique line of headset, earworn and earmounted microphones known for their robust bendable boom and waterproof features. The company also holds two patents for the EMBRACE concealable microphone as well as the patent for the world's first modular in-ear comms headset that is supporting the hearing health for audio, lighting and camera techs using headsets everywhere from sports to space. Founded in 2004, Point Source Audio is headquartered in Petaluma, California. For more information call (415) 226-1122 or visit www.point-sourceaudio.com. Follow the company on Twitter at www.twitter.com/PSA_audio.
Every aspect from the ear hook to the boom length can be formed exactly as needed to get the best sounding position, as well as comfort for the actor."