CM-i5 Headset is a Home Run for Tampa Bay Rays In-Game Producer
Michael Weinman picks Point Souce Audio's in-ear audio headset to relieve ear fatigue.
Turns out "relief" isn't just necessary for pitchers but the in-game producers as well. The Director of Game Presentation & Production for Major League Baseball's (MLB) Tampa Bay Rays, Michael Weinman, communicates with as many as 25 techs on comms for everything that runs live during the game in the fast-paced and instantaneous professional sports environment—and that can put a strain on the ears if you're not wearing the best headset.
Located behind home plate in the often noisy and chaotic press box, Michael searched for a more comfortable headset to communicate with the camera operators, anthem signers, the graphics team for video boards, and others involved with the on-field promotions. He wanted an upgrade from his heavy muff style headset so he turned to the patented CM-i5 Intercom Headset for an unsurpassed combination of ambient-isolation, lightweight comfort, and earphone modularity.
Advantages of In-Ear Headsets Over Traditional Headsets
"I would say the biggest improvement for me is the fatigue on my ears during the game," says Michael about the CM-i5's lightweight in-ear design. The modular in-earphones do a better job of blocking out noise while boosting the audio and providing ambient-isolation⁠—meaning you don't need to turn the volume as high to clearly hear what your team is saying, and therefore reduce the possibility of noise-related hearing damage.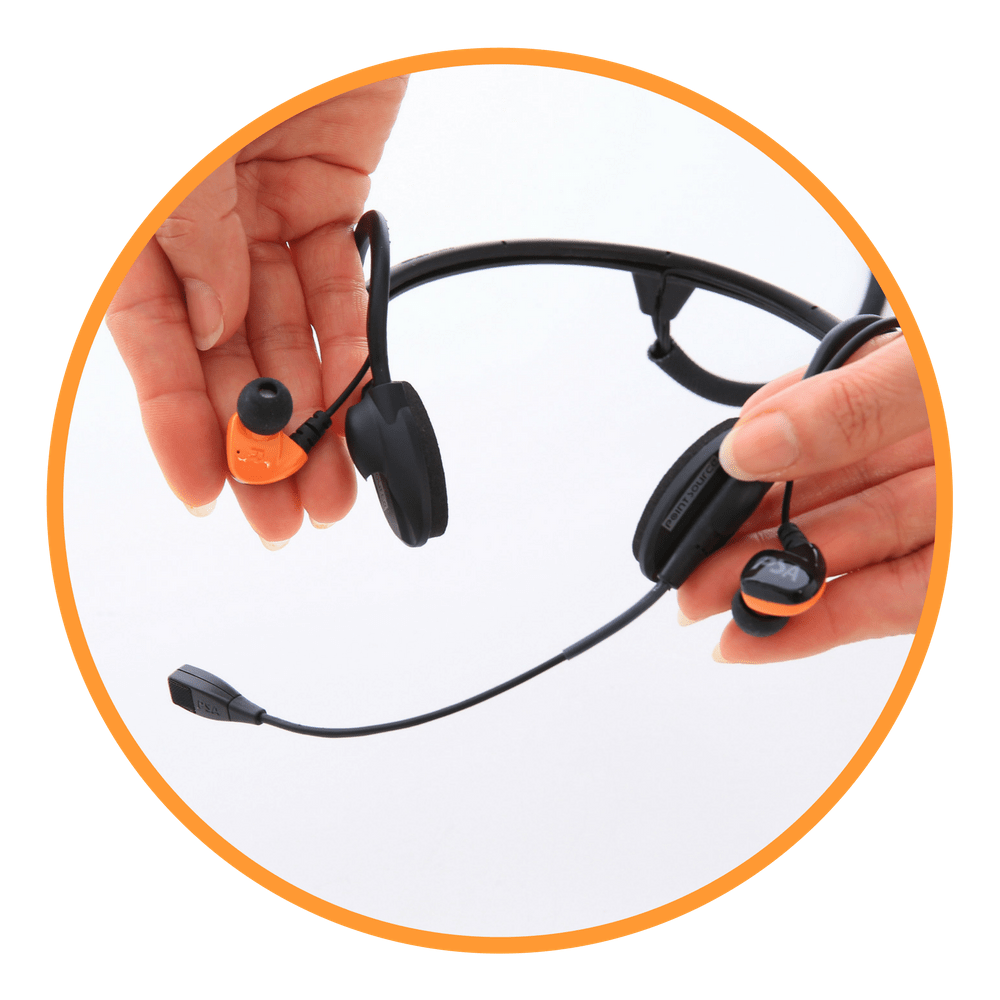 While traditional dual ear muffs can help block out noise, uncomfortable weight is a common health concern expressed by many headset users. Especially after many hours of wearing bulky headsets, head and neck strain are a common concern.  Point Source Audio's patented CM-i5 weighs less than 1 oz and offers a low-profile, lightweight design made for all-day wear.
"Having it be in-ear rather than over-the-ear makes it a lot easier to hear what's going on over the comm, as you're discussing things with your team," said Michael. The in-earphones allow him to quickly unplug one earphone to hear others in the press box without missing the cues in his other ear.
Clearer Comms for the Production Team
The benefits of the CM-i5 go both ways: "That mic is great. I've actually had to turn down the gain with this going out of my box because everybody's like, 'You're really loud'. That never happens!", exclaims Michael. The back-electret condenser microphone design offers a noise-canceling cardioid pattern and expanded frequency of 100Hz-10kHz for production teams to communicate clearly in noisy environments.
Overall, Point Source Audio's patented in-ear headsets eliminate fatigue, weigh less than 1 oz, offer 12dB off-axis noise rejection, replaceable earphones, and a kink-free cable design. More and more headset users are choosing to #UNCLAMP from traditional bulky headset with an upgrade to the CM-i3 or CM-i5 audio headsets.
Read More Articles Like This >> Visit Our SOUNDING BOARD
I would say the biggest improvement for me is the fatigue on my ears during the game.