Sound Designer Daryl Bornstein Selects PSA CO2 Confidence™ Mics for In-the-Round Jersey Boys
Beverly, MA—Theater in the round always presents challenges to design and production teams for a show. The stage at the North Shore Music Theater (NSMT) in Beverly, MA is no exception. In addition to having the cast surrounded by the audience, the recent NSMT production of the Tony-Award winning Jersey Boys had the four leads rarely leaving the stage. If there was a microphone problem, there was not a lot of easy ways to address it — aesthetically, expediently, or cost-effectively.
Sound Designer Daryl Bornstein did some research to find exactly the right mic to solve the challenge presented by the unique stage configuration. In the end, Bornstein selected Point Source Audio's CO2 Confidence headset mics (CO2-8WD) as the ideal mic for double mic'ing the four principal cast members.
Bornstein served as the sound designer for this toe-tapping production of Jersey Boys and his design immersed the audience in the unforgettable music of Frankie Valli and the Four Seasons. Winner of the 2006 Tony Award for Best Musical, Jersey Boys features the legendary top ten hits "Sherry", "Big Girls Don't Cry", "Walk Like A Man", "Can't Take My Eyes Off You" and "December, 1963 (Oh What A Night)".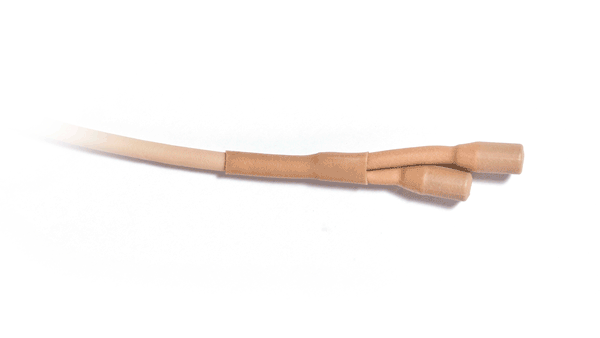 "For this production of Jersey Boys at North Shore Music Theater, we needed a discreet, robust, affordable, dual boom mic for wireless," comments Bornstein. "Typically, we mount a second element to a single element boom. The four main characters seldom left the stage long enough to facilitate a mic swap if there is an element failure. We looked at a number of solutions before deciding on the Point Source CO2 Confidence product."
Bornstein talks about the factors that made the PSA CO2 mics the right choice for this production. "I chose these mics for the combination of value and reliability," he explains. If the designer had gone with another solution for this challenge, he also feels that it "would have cost significantly more and not looked as good."
The patent-pending CO2 Confidence Collection have dual elements offering built-in redundancy—and showcase a petite form factor—in headset, earmount, and lavalier styles—all with redundancy, sonically matched elements, and locking X-Connectors. The new form factor pairs PSA's smallest elements—at roughly 3mm each—to create a dual mic'ing system that is barely detectable. The CO2 mics integrate two of the company's important first-to-market features in miniature microphones: an IP 57 waterproof rating and the "unbreakable" headset boom bendable to 360° to bolster durability.
The designer, who had not worked with PSA products before this production, initially had some reservations about the mics. "The risk was that I had no previous experience with it," Bornstein comments. "I wasn't sure it would live up to its advertisement. Would it sound as good as other mics? Would it hold up under this specific type of use? How easy and secure was the frame?" In the end, his choice to move ahead with the PSA mics was the right one.
Bornstein concludes that he was very happy with his choice of the PSA CO2 Confidence mics. "The mics saved a tremendous amount of time, were easy to adjust and secure to the actors' heads," he says. He even notes that, "We will be expanding our inventory of Point Source Audio elements in the future to include lavs, single element booms, and additional dual element booms."
About Daryl Bornstein

Daryl Bornstein is an independent audio producer, sound designer, and sound engineer for televised special events, recordings, and live performances. Clients have included The Metropolitan Opera, New York Philharmonic, The Boston Symphony and Boston Pops, Jazz at Lincoln Center, the Mostly Mozart Festival, Great Performances on PBS, and Live from Lincoln Center.
About North Shore Music Theatre

Since 1955, NSMT has become one of the most attended theatres in New England, with approximately 250,000 patrons annually. With a national and regional reputation for artistic achievement, NSMT has received numerous industry awards including Elliot Norton Awards, IRNE Awards, the Rosetta Le Noire Award from Actors' Equity, and the Moss Hart Award. NSMT produced the World Premiere of Memphis in 2003, the show went on to win four 2010 Tony Awards including Best Musical. Under the new ownership of Bill Hanney in 2010, NSMT continues to annually produce a musical subscription series and an annual production of A Christmas Carol along with celebrity concerts and children's programming along with year-round education programs. For information, go to https://www.nsmt.org/
About Point Source Audio
Point Source Audio (@PSA_audio) manufactures and distributes worldwide their SERIES8, EMBRACE, and CONFIDENCE collection of miniature microphones—a unique line of headset, earworn and earmounted microphones known for their robust bendable boom and waterproof features. The company also holds two patents for the EMBRACE concealable microphone as well as the patent for the world's first modular in-ear comms headset that is supporting the hearing health for audio, lighting and camera techs using headsets everywhere from sports to space. Founded in 2004, Point Source Audio is headquartered in Petaluma, California. For more information call (415) 226-1122 or visit www.point-sourceaudio.com. Follow the company on Twitter at www.twitter.com/PSA_audio.
For this production of Jersey Boys at North Shore Music Theater, we needed a discreet, robust, affordable, dual boom mic for wireless.