Point Source Microphones Capture the Fierce Fight Sounds of Cirque du Soleil's R.U.N
Renowned sound designer Jonathan Deans relies on Point Source GO-8WM moldable microphones to turn stunt performers into "moving mic stands" onstage
Las Vegas, NV — Cirque de Soleil's latest production, R.U.N, which opened November 14 at the Luxor in Las Vegas, continues to flip theater expectations with a little help from Point Source Audio microphones. A live-action graphic novel out to thrill, R.U.N delivers "back-alley fistfights, bike jumps, car chases, high falls, and body burns," the sounds of which are captured in all of their visceral intensity through the inventive use of Point Source GO-8WM moldable microphones.
For more than 30 years, Cirque de Soleil has defied the limits of art and innovation as the largest contemporary circus company on the planet. Mesmerizing audiences on six continents, Cirque shows demolish boundaries—and with them, audience expectations—of immersive entertainment, technology, and sound.
Shifting from the ethereal acrobatics that has defined Cirque, R.U.N is a stunt show with special effects that pulse with physicality you can hear and feel: a ground- and body-breaking spectacle, seemingly forged from the sonic vision of globally renowned sound designer Jonathan Deans.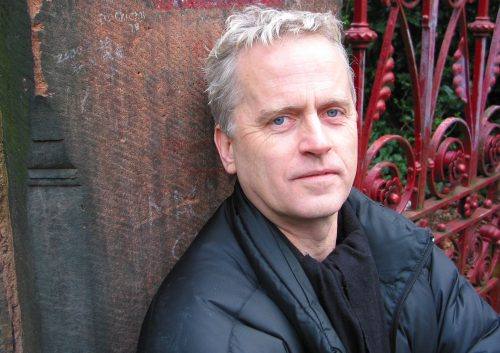 This is the 15th Cirque du Soleil show for Deans, whose Cirque collaborations—Michael Jackson's ONE, LOVE, KÀ, Zumanity, O, Mystère, Believe, Elvis, La Nouba, Kooza, Wintuk, Ovo, Corteo, and Saltimbanco—have helped shape the modern circus legacy.
Cirque's stunt performers don't hold back, and neither does Deans—though he says he had a challenge in front of him when it came to R.U.N's live-action combat. "With dozens of people engaged in slamming, brawling action, live Foley is nearly impossible," he explains. "It just can't be predetermined down to a beat because they'd hurt themselves and no one would be ready."
Deans says he had a lightbulb moment with Point Source GO-8WM moldable microphones, which can be shaped into collar, halo, or headset mics. "We selected about eight artists and put the microphones on top of their heads," he explains. "They're running around like microphone stands, if you like, with the mic in close proximity to their physical noises—you know, the bang, punch, the 'hunh!'"
Point Source GO-8WMs feature miniature 3mm omni capsules, which discreetly pick up sounds all around the performers, and can handle up to 136 dB SPL. "The sounds are natural because they're actually fighting," says Deans.
R.U.N features the furious, frenetic music of composer, guitarist, and producer Tyler Bates (Marilyn Manson, John Wick, 300), and Deans couldn't be more delighted. "The music he writes very much speaks for a certain way of approaching the sound system," he says. "It was very easy for me to lead the sound system to encapsulate his style of music and implement it into a Cirque show—knowing that this particular run is not a usual Cirque show."
Not usual is right. A come-to-life graphic novel with a film noir-style voiceover, R.U.N is about motorbikes, fights, and is just very "in your face," says Deans. "R.U.N incorporates mini-movie clips and Tyler's tracks—meshed with thousands of sound effects—to lead the audience into the scenes." Live sounds and recorded tracks are supplemented by a DJ onstage who triggers and sometimes manipulates sounds live, and a live guitarist.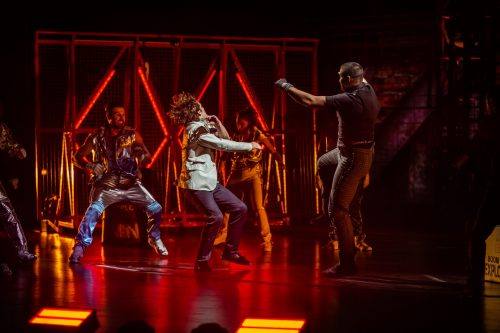 Deans says Point Source GO-8WM mics shine onstage with R.U.N for many reasons. First, they offer superior fidelity. "I need good quality," he says. "I want to be able to capture the true sound of what's going on." Point Source GO-8WM mics are unconventionally malleable: "We could just shape them to whatever form we wanted, not knowing exactly how the performers' moves would work and whether they would feel comfortable about how it would be best placed on them," he explains. "Both the location of the transmitter and how the microphone gets to a place where we need them to capture the sounds—not just of the performers themselves, but the sound around them. I needed a microphone with some kind of rigidity that I could bend to whatever shape was needed, as opposed to a basic shape around the head."
Finally, quite simply, Point Source GO-8WM mics, like Cirque's stunt artists, can take it. The GO-8WMs feature a proprietary Lemo-style connector; Deans appreciates that its rugged strain relief doesn't snap like so many others. "It's perfect," he says. "We've got these people doing all these physical things that are crazy for most people. I needed something that could withstand the abuse the microphone and connector would be getting."
Not to mention that Point Source GO-8WM mics are IP 57 waterproof rated. One Cirque performer went as far as to test that quality by putting the mic up his nose and miking the noises in the back of his throat, then placing it on a tip of a sword before swallowing the whole thing. Deans says these experiments resulted in rather terrifying internal grumblings that speak to a whole new world of possibilities in theatre sound someday. ("Talk about waterproof. And, it was good.") Don't try this at home, kids.
Deans, in all his years with Cirque, is still challenged and still inspired. And thanks to Point Source microphones, he's able to turn unorthodox miking ideas into reality. "That's how we do it! We're not trying to mic a singer or someone talking. It's a completely unconventional way that we're using microphones."
To learn more about the GO-8WM and other Point Source Audio products, visit www.point-sourceaudio.com.
About Cirque du Soleil
Cirque du Soleil Entertainment Group is a world leader in live entertainment. On top of producing world-renowned circus arts shows, the Canadian organization brings its creative approach to a large variety of entertainment forms such as multimedia productions, immersive experiences, theme parks and special events. It currently has 4,500 employees from nearly 70 countries. Going beyond its various creations, Cirque du Soleil Entertainment Group aims to make a positive impact on people, communities and the planet with its most important tools: creativity and art. For more information about Cirque du Soleil Entertainment Group, please visit CDSentertainmentgroup.com.
About Point Source Audio
Point Source Audio (@PSA_audio) manufactures and distributes worldwide their SERIES8, EMBRACE, and CONFIDENCE collection of miniature microphones—a unique line of headset, earworn and earmounted microphones known for their robust bendable boom and waterproof features. The company also holds two patents for the EMBRACE concealable microphone as well as the patent for the world's first modular in-ear comms headset that is supporting the hearing health for audio, lighting and camera techs using headsets everywhere from sports to space. Founded in 2004, Point Source Audio is headquartered in Petaluma, Calif. For more information call (415) 226-1122 or visit www.point-sourceaudio.com. Follow the company on Twitter at www.twitter.com/PSA_audio.
We're not trying to mic a singer or someone talking. It's a completely unconventional way that we're using microphones.