Emmy-winning Camera Operator Relies on Point Source Audio's CM-i5 headset
George Prince III turns to an in-ear headset to communicate with directors and anyone on the comms lines
Petaluma, CA – Camera Operator George Prince III has worked on his fair share of high-profile events, garnering 4 Emmy wins and 14 Emmy nominations since 2004. With credits including the Oscars, American Idol and the Superbowl, plus a whole host more, he has proven himself in some of the most watched and most demanding live productions. Clear communication has been vital to the success he has experienced, and this is aided by his use of Point Source Audio's CM-i5 in-ear intercom headset.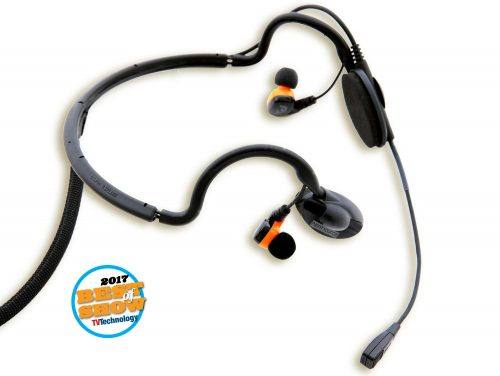 "When I first became a camera operator, an engineer gave me a headset and said, 'don't lose it, it's like a plumber showing up without a wrench'. That stuck with me, so I have always had my own headset," recalls Prince. While initially owning his own equipment was due to good practice, this choice has become even more important in the current climate. "The coronavirus pandemic has highlighted that you should have your own headset for hygiene and personal safety reasons," states Prince.
With the headset being a crucial tool for Prince, the decision to invest in a new model was not taken lightly. The camera operator sampled many different options before selecting the Point Source Audio solution and there were a number of reasons why he opted for the CM-i5. "I looked at a variety of low-profile headsets, but I found that changing the in-ears was easiest with CM-i5," he explains. "Other factors, such as its lightweight design and the small microphone were also important for me."
Having put the headset through its paces on several productions, Prince has been impressed with the way it has performed in the live environment. "It's not bulky and the low-profile design means that it doesn't feel like you've had a clamp on your head after a long day of filming," he says. "The isolation the in-ears provide means that the headset works really well in loud environments such as the music shows, awards shows, or sporting events I have worked on."
Reflecting on the decision, Prince is happy with the headset investment he made. "The CM-i5 is really light and sounds great. Other camera operators even like the way it looks and want to get their own. I'm happy to recommend it to them."
About Point Source Audio
Point Source Audio (@PSA_audio) manufactures and distributes worldwide their SERIES8, EMBRACE, and CONFIDENCE collection of miniature microphones—a unique line of headset, earworn and earmounted microphones known for their robust bendable boom and waterproof features. The company also holds two patents for the EMBRACE concealable microphone as well as the patent for the world's first modular in-ear comms headset that is supporting the hearing health for audio, lighting and camera techs using headsets everywhere from sports to space. Founded in 2004, Point Source Audio is headquartered in Petaluma, Calif. For more information call (415) 226-1122 or visit www.point-sourceaudio.com. Follow the company on Twitter at www.twitter.com/PSA_audio.
The coronavirus pandemic has highlighted that you should have your own headset for hygiene and personal safety reasons"