Point Source Audio Reinvents Intercom Headsets for Improved Hygiene and Accessibility to Custom In-Ear Monitors
The newly upgraded CM-i3 and CM-i5 intercom headsets boast in-earphones that can be quickly detached to clean, swap for custom IEMs or to replace for new users
Petaluma, CA — Point Source Audio's patented CM-i family of lightweight in-ear intercom headsets has received a design upgrade. The new design—brought to market earlier than initially planned in light of the current health crisis—adds factors such as detachable earbuds for improved hygiene and accessibility to more easily customize with a user's custom in-ear monitors.
The upgraded design now features a connector common among in-ear monitor manufacturers that will allow for a much quicker change over should the user choose to personalize their headset with in-ear monitors from brands such as 64 Audio or Ultimate Ears.
A further benefit of this important feature is for rental companies and venues that supply headsets for their techs. The comfort and noise-isolation of in-ear headsets are a no-brainer, but no one is comfortable sharing in-earphones no matter how well they may be cleaned. The new detachable in-ear design addresses hygienic concerns with earbuds that quickly detach from the cable so they can be assigned to the user and replaced for new users.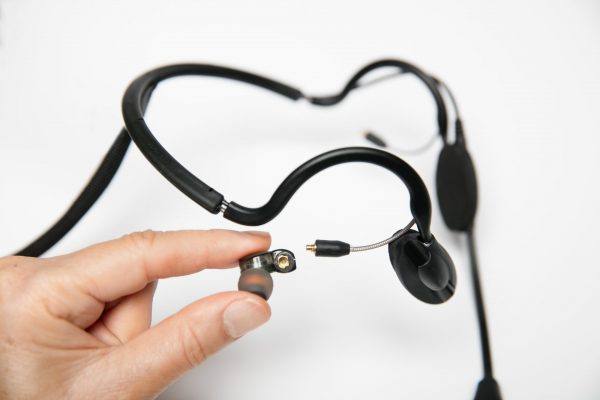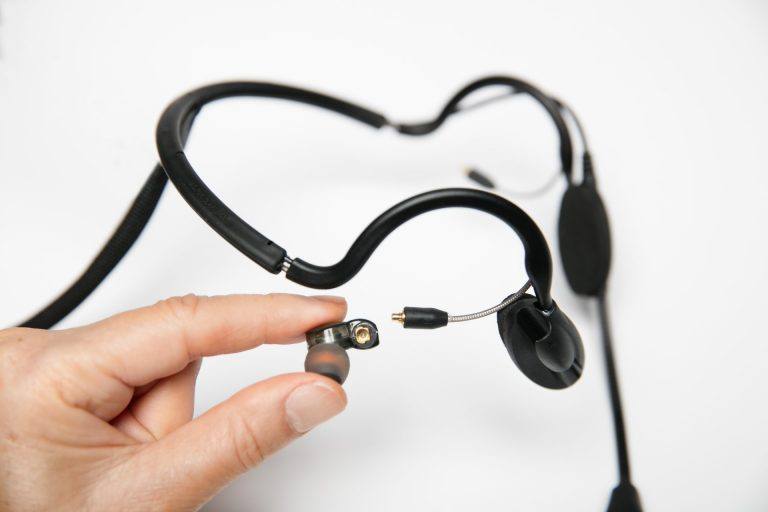 Awarded a Best of Show at the National Association of Broadcasters (NAB) Convention in 2017, the patented modular CM-i headsets with in-earphones provide noise-isolation typical from big earmuffs, but without the heavy weight. The CM-i3 and CM-i5's featherweight assembly weigh just between 1 to 2oz. so they can be worn comfortably all day—even under hard hats.
The removable earphones are a common feature to both the CM-i3 and CM-i5 intercom headsets which helps companies address the challenging health management of cleaning and maintaining required safety equipment worn by its staff. In-earphones are a highly personal item, and typical with small electronic parts, may be difficult to sanitize properly. The personal assignment of the detachable in-earphones ensures that users take responsibility for their earbuds and there is never any sharing of the in-ears themselves.
"The current global situation has brought hygiene to the front of everybody's mindset, but in fact, these challenges have always been looming," says James Lamb, president of Point Source Audio. "This design change can help ease the administration process of dispensing personal gear to work crews, especially in regard to reducing the health risks if sharing equipment."
Designed for clarity and all-day wearing comfort, the CM-i line is the world's only series of modular in-ear intercom headsets offering a revolutionary combination of in-ear performance, increased isolation, lightweight comfort, and an option for custom in-ear monitor replacements. The robust feature set makes these headsets ideal for teams who rely vitally on the ability to hear clearly—and react quickly.
"Customers tell us again and again that they will never go back to their old-style headsets after using a Point Source headset," says Lamb. "For anyone who must work in loud environments, or has health concerns about sharing headsets or bulky headsets that weigh too much, our intercom headsets will give them relief from all these problems. Add the ability to switch to your own in-earphones for hygiene and peace of mind, and the CM-i family delivers an unbeatable proposition."
About Point Source Audio
Point Source Audio (@PSA_audio) manufactures and distributes worldwide their SERIES8, EMBRACE, and CONFIDENCE collection of miniature microphones—a unique line of headset, earworn and earmounted microphones known for their robust bendable boom and waterproof features. The company also holds two patents for the EMBRACE concealable microphone as well as the patent for the world's first modular in-ear comms headset that is supporting the hearing health for production crews using headsets everywhere from sports to space. Founded in 2004, Point Source Audio is headquartered in Petaluma, Calif. For more information call (415) 226-1122 or visit www.point-sourceaudio.com. Follow the company on Twitter at www.twitter.com/PSA_audio.
This design change can help ease the administration process of dispensing personal gear to work crews, especially in regard to reducing the health risks if sharing equipment."