The Best Windscreens for Your Microphone
Windscreens tested and approved by Point Source Audio!
Wind noise can be a huge problem easily solved with a windscreen. But a big challenge for small mics is that large windscreens give the opposite of the desired low-profile.
If you want a small low-profile windscreen but find that they can slip off and get lost, here are two ways to solve this problem:
Add Friction to Your Foam Windscreen
Recommended for these microphone models with a 3 mm element size:
Headset microphones: CO-8WD | CR-8D
Earset microphones: CO-8WS | CR-8S | CO-6 | CO-5W | CO-3
Here's a handy hack that's easy and accessible!

1. Find the smallest 1/8″ (3.2 mm) orthodonic elastic rubber band.
2. Wrap the elastic around the tip of your mic element once or twice to secure it. Do NOT apply heavy pressure or bend the tip of the element in any way.
3. Carefully pull your windscreen over the element and the rubber band. The tension created by the rubber band and the windscreen provide just the right amount of friction to keep the windscreen affixed to the microphone!
Use a Plastic Windscreen Cap
Recommended for these microphone models with a 4 mm element size:
Lavalier microphone: CO-8WL | GO-8WL
EMBRACE on-ear microphone: EO-8WL

Miniature lavalier microphones—by their very design—are perfect for camouflaging. If a foam windscreen adds more bulk than you want, upgrade to a WSC windscreen cap. These colored caps come in five colors and address popping, wind noise and preserve the microphones' performance if water or sweat lands on the mic element.
See Windscreen Cap options: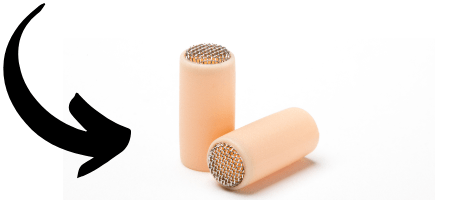 Best Practices to Reduce Wind Noise
As good general practice, follow these steps to reduce wind noise when using your microphone:
Find the right placement for your mic relative to your mouth, depending on whether you are using an omnidirectional or cardioid microphone.
Use breath control to keep air from flowing directly into the mic.
Use the provided windscreen, or upgrade to a windscreen cap if using a Point Source lavalier.
If you want more tips on reducing wind noise or need some help choosing the right mic for your needs, our team is here to help. Contact us and we'll help find the perfect solution for you!