Point Source Audio is Catalyst for Church Unlimited's Filming and Broadcast Excellence
EMBRACE on-ear lavalier microphones unleash creativity; slash post-production time for Texas mega-church
Corpus Christi, TX — Church Unlimited is a proudly modern church with an energetic style of worship and a willingness to embrace new technologies that help it reach wider communities. Pre-recorded content for its online channels plays a large part in achieving its reach, but filming with boom mics was cumbersome. Hence, Church Unlimited turned to Point Source Audio's EMBRACE on-ear lavalier mics for a readily concealable wireless mic option.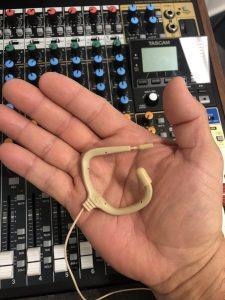 Are EMBRACE on-ear lavaliers right for your application? Our team would love to talk to you!
"It is a hybrid model that we've gone to now," explains Mike Peña, Audio Engineer at Church Unlimited. "We pre-record two hosts talking about what's going on, and at the proper time, we synch up and everything goes live to the pastor on stage at our broadcast campus with the message and we stream it out."
Church Expands Broadcast Capabilities
As with many houses of worship, Church Unlimited expanded its streamed content during the pandemic to ensure that praise could continue safely. By the time congregants were allowed back into the church for communal services, the online side of Church Unlimited had grown so much that it was almost a campus in its own right and the team were able to get creative with the content they were creating.
"We started to get really creative with the pre-recorded stuff," recalls Peña. "We thought 'let's get some different shots, let's use the stage, let's use the jib cameras to mix it up a little bit', and the old way of doing things with booms and mics on stands to go around and capture all the talking head stuff was getting in the way. Every shot we did, you could see the boom or something else."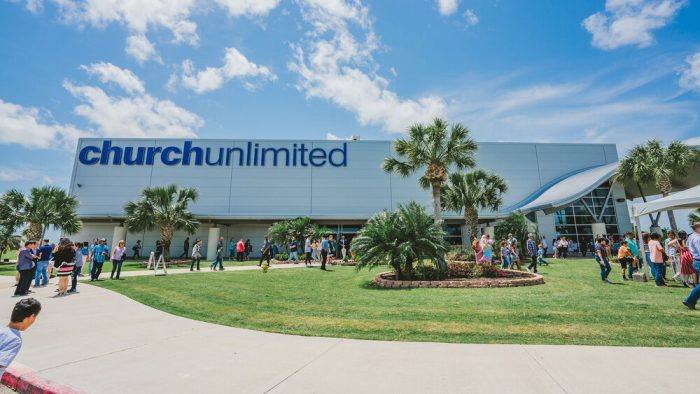 The Right Mic for Broadcast
Peña researched the EMBRACE microphones and became convinced that the on-ear lavalier—engineered for concealing but featuring a mounting system that keeps the mic placement consistent to the mouth—was the right choice for the church.
"I was really impressed with the sound quality, you don't see it and it sounds great the whole time," reflects Peña. "There are so many things that it fixed for us and so many things that it opened up for us, they've been amazing. The post-production work doesn't take half as long for me to clean up, fix up and send back out to the video team—they have made my workflow faster."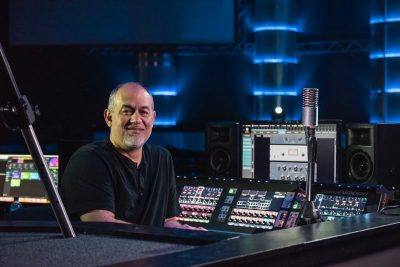 The patented mounting has also enabled the church's videographers to be more creative in the shots and angles that they choose to capture, particularly with Church Unlimited's popular 'At the Movies' series. "Some of the camera angles, you don't even know the mic is there," says Peña. "The mics have opened up a world of possibilities because we don't have stands or a guy holding a boom. It gives the Pastor more freedom to move around during video shoots. They've changed everything on the audio for video side of things."
The 'At the Movies' series was the first time that Bil Cornelius, Church Unlimited's Lead Pastor, experienced the EMBRACE mic. "He was ecstatic about the fit, the comfort and the possibilities," reveals Peña. "There was a real level of excitement from him when he first tried it out."
With EMBRACE proving its capabilities for the pre-recorded content, the worship leaders at Church Unlimited are now keen to explore what the microphones can do in a live setting. "All of the pastors have seen them in video shoots and want to use them live on stage now, so it looks like we'll be adding a few more to the mic locker," concludes Peña.
Schedule a LIVE DEMO with our Tech Team to understand all the advantages this mic has to offer!
About Church Unlimited
Over its 25-year history, Church Unlimited has grown from meeting in a two-bedroom apartment to a six-campus mega-church that welcomes 15,000 worshippers on average every week. It has always embraced online services and has built the capabilities to deliver content this way to its congregation with more than 90 services throughout the week. Based in Corpus Christi, TX, the non-denominational, Christian church has changed thousands of lives through innovative worship experiences, local outreach programs, and global missions. For more information, visit https://churchunlimited.com/.
I was really impressed with the sound quality, you don't see it and it sounds great the whole time.